wheel spacers any one using them
04-05-2014, 01:24 PM
Senior Member
Join Date: Jan 2012
Location: Central Pennsylvania
Posts: 633
---
When you look at your studs, you'll see the end/tip has a tapered unthreaded "nipple". I used a cut off wheel in an air grinder and sliced that off to where the threads started. I don't think I had to do this. It was close and I didn't know if they'd stick out a bit once everything was torqued. So, I did it anyway for peace of mind.
04-05-2014, 01:24 PM
---
oh interesting, I must have missed the spacer plates that were also hub-centric. that kinda changes things......
Anyhow to your question the first one that you listed with the built in studs is what I'm probably going with. If you use the second link, the plates, you have to be careful about its thickness and stud length. it was a debate in another thread about spacer size and stud length. after playing with washers on the studs it was apparent that 1/4" was about as thick as you wanted to go on the stock studs due to limiting the amount for the lug nut to grab onto. going much more than 1/4" and you need to get longer studs..... but that is assuming you are already getting hub centric plates.
Then there is the thought of how long the studs are that you can get and the tradeoff of just going to the adapter spacers at minimum thickness and then using smaller studs (so they do not poke through and hit the rims, but note some wheels have reliefs for that purpose though).
So after a long explanation I'll be using the adapters in the first link you posted
04-05-2014, 01:35 PM
---
I dont mind cutting them I have all of the tools necessary to do so. Im currently shopping for a lift and they all seem to want a 4.5 to 5 inch wheel back spacing. Im not sure what my factory wheels are but I know they are not that. Im guessing around 6.5 on the factory wheel. I have not pulled them to see. I have a lift and a tire machine here at the house so Im ready to get this done.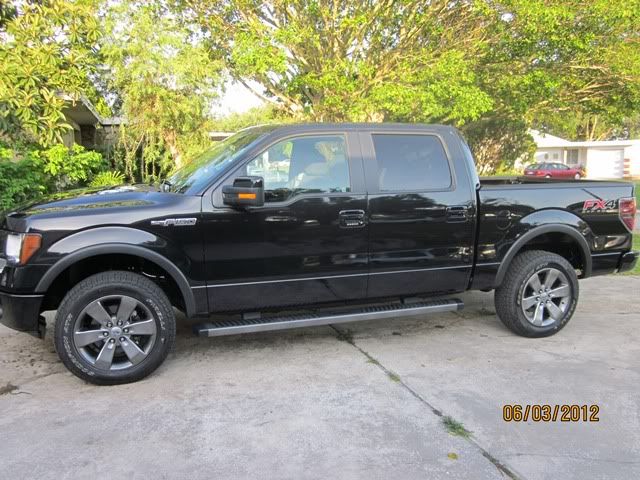 04-05-2014, 01:38 PM
Senior Member
Join Date: Jan 2012
Location: Central Pennsylvania
Posts: 633
---
My 1.5" spacer, in conjunction with my Raptor wheel, essentially gives me 4.5" back spacing.
04-05-2014, 02:59 PM
---
Thats great info thank you. This is the first truck ive ever had that i really liked the factory wheels and want to keep them. I have the link saved for those spacers.
04-05-2014, 11:08 PM
Member
---
I have the fred goeske 1.5" spacers as well, very high quality and zero issues so far. I got excited and ordered them without reasearching how they would fit with my 0 offset wheels, 35" tires, and 2.5" level kit . Looked great with wheels straight but a little turn would cause them to rub on my inner fender flares. Explored trimming but will need to trim a whole lot to get them to lock with no rubbing.
Ended up keeping the rear ones only for a different stance, not sure about how it looks but its growing on me.
04-06-2014, 10:45 AM
---
I like the stance its too bad you couldnt have keept them in the front
04-06-2014, 11:04 PM
Senior Member
Join Date: Dec 2008
Location: Albuquerque, NM
Posts: 1,306
---
Originally Posted by
torinalth
*Threadjack* Desert dawg - lift height and spacer depth? you are damned close to what I planned my end goal to be.

*back on topic* looks like others agree with my suggestion. I have a set of 1/4" spacer plates that are going in the trash. without a hub centric spacer/adapter you are going to have issues. and the spacer plates remove too much of the hub ring that the wheel rests on to where I didnt feel comfortable running them. my original concern was thread depth remaining on the studs, but after trying the smallest it was more apparent that hub ring was more important than the rest.

good luck.
torinalth; I am currently running 2.25 inches up front right now on the adjustable coilovers which gives me a total of 3 inches over factory height with the 33.5 inch tall tires. Eventually will br dialing in a full 2.5 inches up front with 34.5 inch tall tires.
04-06-2014, 11:06 PM
Senior Member
Join Date: Dec 2008
Location: Albuquerque, NM
Posts: 1,306
---
Originally Posted by
NastyFFX4
Would only consider the bolted ones that you listed:
http://www.wheeladapter.com/ford_wheel_spacers.php
10-12-2017, 07:47 PM
Senior Member
Join Date: Jul 2013
Posts: 335
---
Originally Posted by
IrishRed
Yes, around $300. I have talked with Fred personally too. He's a great guy who knows his craft very well.

I am running his 1.5" adapters with 2013 Raptor wheels and tires. IMO looks pretty sharp. They will also allow me to keep my 17" Raptor wheels with my 6" Rancho lift making for a pretty unique setup!
Old thread I know but did you get this setup to work? Can Raptor wheels and spacers be used on a 4/6 inch lift?
Anyone have an pics?