Looking for input on travel trailers
03-08-2019, 12:14 PM
Junior Member
Join Date: Mar 2019
Posts: 1
Received 0 Likes on 0 Posts
Looking for input on travel trailers
---
hello I have a 15 f150 super crew with 5.0L and 3:31 rear end my GVWR is 7000lbs and looks like my max trailer load is 9000 lbs I'm looking to get a travel trailer for my fiancé the two dogs and I. I would like to know what your guys ideas of good weights and lengths for comfortable towing on my truck and max weights you guys would go if you have pictures of your truck hooked up I would love to see them.
03-08-2019, 12:37 PM
Grumpy Old Man
---
Hi,
Truckster1987
, and welcome to our campfire.
Originally Posted by
Truckster1987
hello I have a 15 f150 super crew with 5.0L and 3:31 rear end my GVWR is 7000lbs and looks like my max trailer load is 9000 lbs I'm looking to get a travel trailer for my fiancé the two dogs and I. I would like to know what your guys ideas of good weights and lengths for comfortable towing on my truck and max weights you guys would go if you have pictures of your truck hooked up I would love to see them.
Common question, and there is no good answer. Ignore that 9k number and concentrate on your limiter, which is payload capacity available for hitch weight. Payload capacity available for hitch weight is the 7,000 GVWR of your truck minus the weight of your truck when wet and loaded ready for towing.
As a general rule, you can probably tow a travel trailer that grosses up to about 6,000 pounds without being overloaded. You can get a better estimate of max trailer weight two ways:
1] In the door jamb of your truck there is a yellow sticker that includes the payload capacity of your truck. Begin with that number and subtract all the weight of everybody and everything that will be in the truck when towing. The answer is payload capacity available for hitch weight.
or
2] Load the truck with everybody and everything that will be in it when towing. Drive to a truck stop that has a CAT scale and fill up with gas, then weigh the wet and loaded truck. Subtract the weight of the wet and loaded truck from the GVWR of the truck and the answer is the payload capacity available for hitch weight.
"Everything" in the truck includes tools, toys, outdoor furniture and carpet for your patio at the campground, heavy cast-iron dutch oven for cooking up a mess of beans or stew over the campfire, crate(s) for the dogs to sleep in, camper shell or tonneau cover, everything. Yes, we travel with two wonderful dogs too.
2] above will give you a much better estimate than 1] because most folks are terrible and remembering everything that will be in he truck when towing, then guesstimating the weight of those things.
Subtract 100 pounds from the payload capacity available for hitch weight and the answer is the payload capacity available for tongue weight (TW).
Divide the payload capacity available for TW by 13% and the answer is the max GVWR of any travel trailer (TT) you want to consider. Hopefully it will be at least 6,000 pounds.
As to length of the trailer, the max is around a 24' box and 28' tip to tail length. But better is if you keep the length of the box at 20' or less. IOW, only very small TTs. The longer the TT the bigger the "sail" of the side of the trailer that gets pushed on by cross winds and the wash of passing 18 wheelers.
And you want to tow it with a very good weight-distribution (WD) hitch that has very good built-in sway-control/prevention. If the hitch uses sway bars for sway control, that's a cheap hitch. Do not price shop tying to find a cheap hitch. Price shop for one of these:
Equal-I-Zer 4P
Blue Ox SwayPro
Reese Straight-Line tunnion
Those three are available at Amazon or eTrailer for less than $700, complete with adjustable shank. A bargain would be one of those, complete with adjustable shank, for less than $550. For example: From eTrailer
Strait-Line Weight Distribution System w Sway Control - Trunnion Bar - 12,000 lbs GTW, 1,200 lbs TW - Includes adjustable shank

Item # RP66084
Retail:$1,088.67
eTrailer Price: $569.62

Note that one is rated for a max of 1,200 pounds TW. Which is what you need if your TT has GVWR over about 6,154. The Strait-Line hitch rated for a max of 800 pounds TW would work if your max trailer GVWR is less than 6,154. Equal-I-Zer and Blue Ox SwayPro both are available with rating of 1,000 pounds max TW, so that's what you would buy if you choose one of those brands.

You don't want the WD hitch to be rated for less than your TW might ever be. Higher ratings are okay if not excessive. You don't tighten the spring bars as tight as they will go. You tighten the spring bars only as much as required to bring the front end of the truck back down to close to unloaded height. My WD hitch is rated for a max of 1,400 pounds TW, but the actual wet and loaded TW is about 650 pounds. But when properly adjusted, my hitch tows great.

Happy shopping.

Pictures? Scroll down past the end of this thred and click on " Back to Subforum Towing/ Hauling/ Plowing". Then scroll down to March 4th and click on the thead "Let's see some trucks with trailer pictures". Then go to almost the last page of that 50+page thread and you'll see some recent pics. Page 1 of that thread was 8 years ago, so nothing recent near the top of the thread index.



---
Last edited by smokeywren; 03-08-2019 at

02:49 PM

.
03-08-2019, 02:58 PM
---
Smokeywren hits the nail on the head with this one as usual. When looking, ignore the dry weight of the camper. It doesn't include anything. 2 full propane tanks and a battery will add at least 100 pounds to your hitch weight. Then all the goodies to enjoy your trip... In short, if the travel trailer stealership tells you the 32 footer with 3 slides will tow behind it "just fine, you won't notice it", run don't walk away.

I have an 18 max tow with 3.55s. What towing package, if any do you have? Even the basic package with receiver hitch and 4 and 7 pin plugs is better than nothing, but if you live in hilly terrain you may want to go lighter if you don't have the additional transmission cooling capacity that comes with the towing packages. The factory brake controller is also nice to have, and works very well.

I'm towing a Rockwood Ultralite 2509S bunkhouse with my truck. It's 27' tongue to tail. The dry weight was listed at 5195 from the factory. By the time I fill the 2 propane tanks and installed a second battery on the tongue I was at 5315. Loaded up with all the stuff for the four of us and our 60 pound boxer to take a trip we are just over 6000lbs. My tongue weight measured with a Sherline scale is under 800lbs. Something like 775 which is actually closer to 14%. I have an Equal-i-zer brand hitch with 1000lbs bars. My truck has a payload of 1775 according to the yellow sticker. By the time me, my wife, 2 kids (and their car seats) and the dog are in the cab I have about 300 pounds of payload to play with. The trailer is comfortable to tow. I know it's back there, and I feel semis pass but I could drive for 8 hours in a day and not feel completely wasted.
03-08-2019, 06:36 PM
Senior Member
Join Date: Mar 2015
Location: East Central Illinois
Posts: 897
---
Decide whether you want to "get away from it all" with a travel trailer, or, if you "want to take it all with you". Personally I am in the "get away from it all" mode, and while I still want a comfortable experience for myself and my family, we prefer being close to nature while still enjoying comfort from the low 20's to low 100's. A hybrid Rockwood Roo is our choice , just towing at 21 feet closed up, but with a full slide-out and two tip-out beds, having the space of a 32' camper. We prefer the experience provided by the vinyl bed extensions, the ability to experience the fully screened views of the lake when waking up, and little obstructing nature's sounds.. However, some prefer the fully enclosed experience that attempts to duplicate a mobile upscale boutique hotel room. There is nothing wrong with either view, or something in between, but a selecting a properly-suited travel trailer to you the first time avoids expensive trading and gets used more. Making payments on a travel trailer that you can't get the family excited about going out in becomes an expensive waste of money.

After deciding upon the type and style of travel trailer you desire, using Smokeywren's excellent advise above, decide how much trailer you can comfortably tow within you payload with no suspension modifications from stock. Find a travel trailer that both fits within your payload specs and meets your desires and needs. If you have to upgrade your truck for the trailer you want, buy the new truck first (a HDPP F150 or Super Duty) and then get the trailer you desire. Buy right the first time so you don't have to waste time, money, and frustration on an ill-suited truck and trailer.

Remember it's all about enjoyment. Towing a trailer near or over a tow vehicle's limit is not enjoyable. Having more truck than is needed for the trailer makes the experience an enjoyable vacation instead of a white-knuckle bother.
03-08-2019, 11:32 PM
Senior Member
Join Date: May 2014
Location: Everett, WA
Posts: 468
---
That there is words of wisdom!
OP asked for pics and I must answer....
Below is my truck and trailer hitched and set up properly via a scale. The rear looks like its sagging because I had a 1.5" leveling kit in the front. Had it not been there, the truck would have been completely level. In this pic, the truck was carrying a tongue weight of about 850lbs and we would ride with the truck maxed out to the 1529 payload. The trailer weighed about 7500 total here and was 29' 7" ball to bumper.
Suggestions to the OP::
- I wouldn't go any longer than a 24' box. This is what mine was and it was safe. There was once in 30mph sidewinds that it was wiggly but never unsafe. Any longer and I would want either a longer wheelbase F150 or a 3/4 ton+ truck. Realistically, having towed my parents 20' trailer, that would be my ideal length for an F150.
- Weight isn't an issue for either the 5.0 or 3.5 Eco to keep moving. Even the 3.31 gearing isn't bad for towing. With my 33" tires on the F150, my effective ratio went from 3.55 to 3.43 and it was still very good at towing...plenty of power. Where weight of the trailer really came into play was steering and stopping. With our setup, the truck weighed about 7200 and the trailer was 7500. Between the weight and length of the trailer, the truck never really felt "planted" on the road. Having a heavier F250 with a longer wheelbase fixed this for us. For weights, I would focus on a trailer with 6000 GVWR or less.
- 20' box and less than 6000 pounds would be an ideal match for an F150.
- Hitch: all the above suggestions are good. One that I will add is the Husky Centerline TS hitch. It is nearly identical to the Equalizer referenced above but is about half the cost. The whole thing can be had for about $300 on Amazon. My parents and 2 other friends also use the hitch and we have all had very good luck with it. Here's the link:
Husky 32218 Center Line TS with Spring Bars - 800 lb. to 1,200 lb. Tongue Weight Capacity (2-5/16" Ball)
My last piece of advice is don't listen to the salesmen or brochures regarding weight. Rely more on what the door stickers on your truck says and the GVWR of the trailer is. This will be the max. Also, for a realistic tongue weight, add 250 to the manufacturer's listed weight.
On to the picture!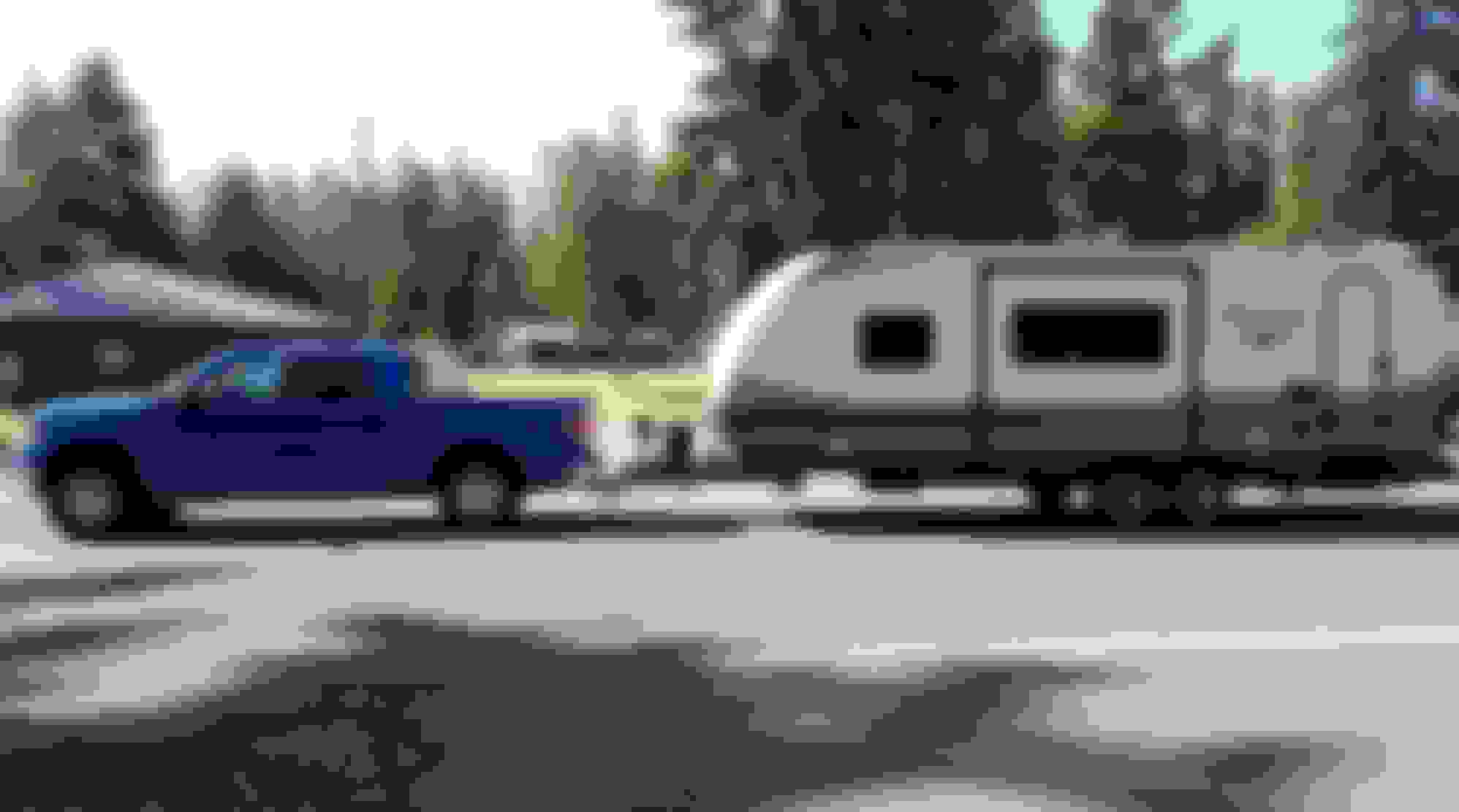 And, the same trailer behind the F250:
---
Last edited by clarkbre; 03-08-2019 at

11:37 PM

.
03-09-2019, 08:47 AM
Member
Join Date: Aug 2018
Posts: 73
Likes: 0
---
24-26 feet is the sweet spot for travel trailers in my opinion. Big enough to spend some time in when it's necessary and small enough to fit in most sites. My F150 has a 7050 gross and I can get my TT up to 8k with careful packing so I'm 15k combined. I would recommend you don't even consider a TT with a gross over 8k. Some aren't comfortable towing at max. I'm OK with it.

More importantly make a list of features you would like your TT to have, and a list that it must have. My must have's included: Bed oriented lengthwise with access along both sides, nightstands with power on both sides, dinette and sofa directly opposite for comfortable visiting, entry door accesses into the kitchen, tall ceiling, oversize entry door, etc.

Good luck!
03-09-2019, 09:46 AM
Senior Member
Join Date: Feb 2012
Posts: 11,002
---
My Coleman is 28', and with a Blue Ox the new Gen trucks handle it well, the prior gen 09-14 handled it well with a low end Husky round bar and single sway control. The hitch makes the biggest impact on tow experience. They need to be the correct size and type for the load being applied, don't cheap out on it, and going bigger is always better than going under. The BO with 1000# bars would have been right at the edge for my setup, and I had found I could get 1500# bar hitch for $200 less, so I did. Rock solid towing.

32' is the maximum length I would tow with, anything longer is asking for trouble, there just isn't enough mass up front to counter wind loads against a long trailer. 32' can be a handful under the wrong conditions too, so if you do decide on a trailer that long, be very cautious of driving conditions, and especially cross winds on bridges and valleys.

On the way to Bryce Canyon the first year I got mine, we stopped at one of those Utah scenic areas to cool off the truck, it was 110* that day. As I am standing there next to the truck a gust of wind came up from the valley and hit the side of the trailer hard enough that the back of the truck lifted, and I could see the trailer leaning. Had I been driving I may have left skid marks, and not on the road.