View Poll Results: October 2011 TOTM
03FX4604
12
8.33%
BleedFordBlue
22
15.28%
SledmanJones
23
15.97%
FX44AU
76
52.78%
Alex Childs
11
7.64%
Voters: 144. You may not vote on this poll
October 2011 TOTM!!!!!!
10-03-2011, 10:17 PM
Nor-Cal
October 2011 TOTM!!!!!!
---
If its highschool month i gotta add my senior portraits with my truck
I know kinda cheesy but my moms a proffesional photographer.
10-06-2011, 10:57 AM
Senior Member
Join Date: Sep 2010
Location: Middleburg, FL
Posts: 330
Thanks: 0
---
Year: 1995

Model: F-150 Flareside swb scab

Mileage: 180,xxx

Modifications: 6in rough country lift, converted to 4wd. 4.10 gears and detriot locker in the rear from a 1992 bronco, front Axle from a 1988 bronco. Pulled sway bars from a bronco, all emissions removed and has 2 1/2 in pipe run from manifold back. Carr light bar with 4 auxiliary lights. Clearance lights from a super duty. 33x12.50 and 15x10 Micky Thompson classics bullet hole. And much much more.

This is my truck but y'all got alot of new badass trucks and I'm just seein if my old truck can keep up! Hope y'all like her
10-07-2011, 06:53 PM
---
I would like to submit my truck for TOTM
Year:1999
Model: F-150 4x4 XLT Flareside SuperCab 5.4L
Milage:231K
Mods: 6" Fabtech Lift, 3" Body Lift, 6" BDS Rear Leafs, Bilstein Shocks, Yukon 4.88 Gears front and rear, OBX Longtube Headers, EDGE Programmer, Borla XR-1 Muffler, 17x9 Helo Maxx6 wheels, 37x13.5x17 Toyo M/T tires, EBC Yellowstuff Pads and Rotors, N-Fab Steps, DDM Hid Headlights and fogs, Pioneer AVH4300DVD w/ Pioneer 3-Way speakers
Thanks
10-08-2011, 10:27 PM
Senior Member
---
Year:
2010
Model:
FX4 Supercrew w/5.5' bed
Milage:
16,000
Options:
Everything except tailgate step and backup camera
Mods/Custom Work:
Fabtech 6" lift, King coil overs set to a little over 7" of lift, Fox 2.0 rear shocks, rear lift shackles (not shown in pics), 35/12.50/20 Trail Grapplers, 20"x10" Diamo 17K black/machined wheels, KC light bar w/KC Rally 800 lights, Magnapack SI/DO exhaust, tint, blue FX4 decals, Harley heads/tails, Bedrug, Truxedo Lo Pro QT tonnea, Alpine SR-T12 subs, Rockford Fosgate Power 1000-1BdCP amp, Knu Konceptz wiring and LED interior/exterior lighting
Description:
Bought this truck new in October of last year and started modding it in November. I don't have much else planned for it other than 4.56 gears and 37s.
Why did you Nominate this truck:
To see if others think it's worthy of TOTM
Garage Link:
https://www.f150forum.com/dto_garage...hicle_id=12622
Photos: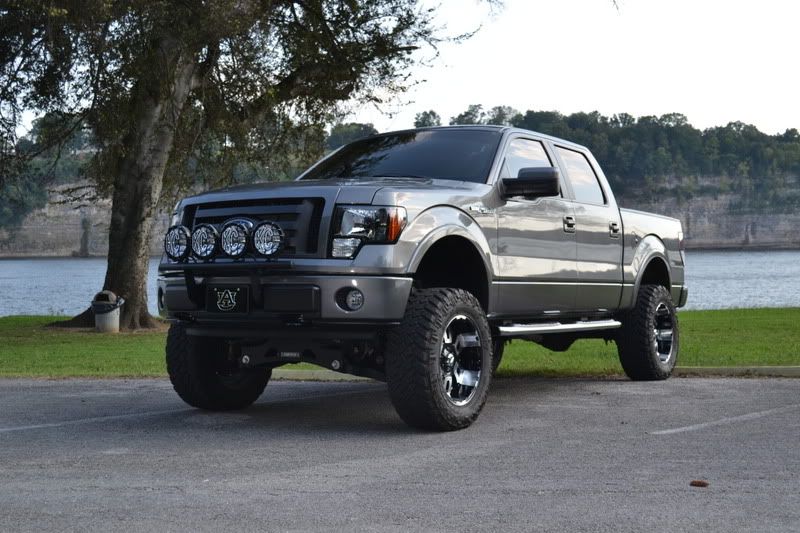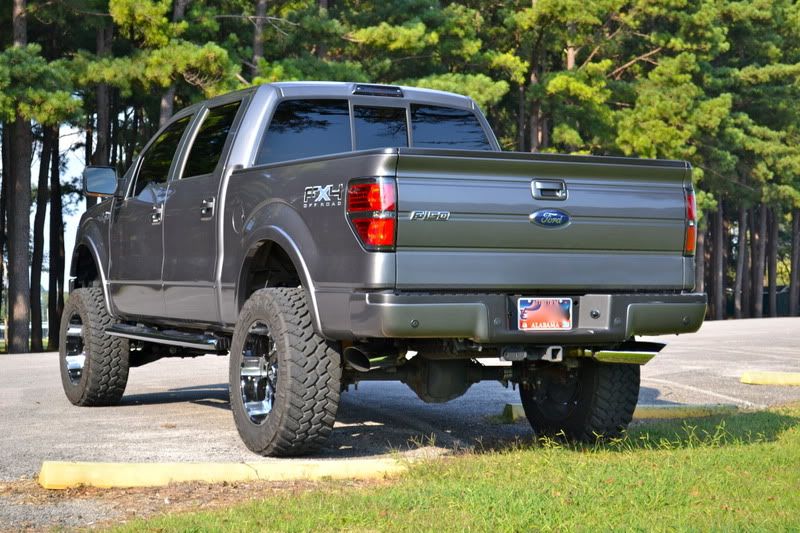 10-11-2011, 12:56 PM
---
2003 supercrew 150
7 inch lift
35 in toyo open country mts
20x10 rockstar xds
3 inch flowmaster super 44 from the y pipe back
D1SC procharger supercharger with the intercooler kit
1000 watt pioneer amp with 2 10 inch pioneer subs

Couple more
---
Last edited by alex childs; 10-14-2011 at

07:35 PM

.
10-11-2011, 01:33 PM
Administrator
Join Date: Oct 2008
Location: Letterkenny, Ontario
Posts: 14,053
October 2011 TOTM!!!!!!
---
---
Last edited by Lenn; 10-11-2011 at

01:49 PM

.
10-14-2011, 12:24 PM
Nor-Cal
---
Here my original nomination info.
Thanks again for the nomination, I'm glad to go toe to toe with these trucks.
Just thought I'd throw mine up and see what everyone thinks.
Year: 2003
Model:Fx4 XLT
Milage:145,xxx
Options: FX4 package, max tow package, power everything, sun roof
Mods/Custom Work:All in the garage and signature
Description: Daily driver, weekend offroader, hauls my dirtbikes and families boat.
Why did you Nominate this truck: It's my baby, got it bone stock when I was 16, she's come along way and I'm happy where she's at.
Garage Link:
https://www.f150forum.com/dto_garage....ehicle_id=7755
---
Last edited by 03FX4604; 10-14-2011 at

12:32 PM

.
10-14-2011, 01:25 PM
Senior Member
Join Date: Nov 2010
Posts: 3,427
---
I haven't looked at any of the trucks yet, but man did October TOTM come out of the blue. Getting ready to vote, exciting
!
10-14-2011, 01:35 PM
Senior Member
Join Date: Nov 2010
Posts: 3,427
---
Man this month was actually pretty hard for me to choose. 03FX4, your rims are awesome. Alex, your truck has a supercharger, I mean come on thats freaking sweet! Sledman, I don't like those models that much, but amazing truck. FX4, your truck is sweet, but your exhaust is my favorite part. Bleed, well... you got a confederate flag, and that will get you brownie points anywhere