View Poll Results: What do you own?
Standard Cab
36
11.92%
Super Cab (extended)
121
40.07%
Super Crew (4 door)
145
48.01%
Voters: 302. You may not vote on this poll
Super Crew, Super Cab, or Standard Cab?
04-03-2009, 11:10 AM
---
When I look at the '09 150 Screws though, I think the front doors looks a little too big compared to the back now. Think they needed to make the doors a little more similar in size, like they were on the 04-08, cause the fronts on the '09 are significantly bigger than the backs.
2009 model
2006 model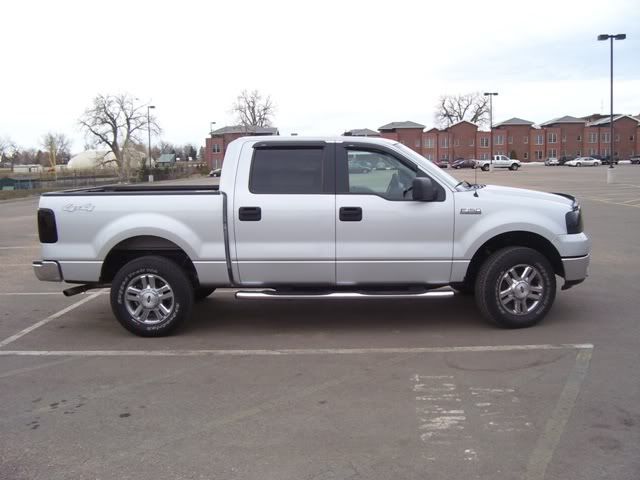 ---
Last edited by MHC-F150; 04-03-2009 at

11:14 AM

.
03-03-2010, 08:57 AM
Carpe Diem
Join Date: Jul 2009
Location: Northeast Maine
Posts: 495
Thanks: 0
Scabbed
---
I got an Scab, since I'm a college kid without and family or anything. I find I got plenty of room in the back, and I like to look of the scab with the 6.5 foot box (not to offend anyone, but the Screw/short bed (5.5 foot) combination i find looks HORRIBLE!) So instead of going with a super long truck (screw with 6.5' bed) i went with a Scab with a 6.5" bed.
08-23-2012, 08:40 PM
Newfies gonna Newf
Join Date: Aug 2012
Location: New Harbour, NFLD
Posts: 58,576
---
hmm. I sadly don't have an f-150 right now, but when I do go truck shopping, i will be looking for either a supercab or a supercrew. It's not that i actually dislike the regular cab or anything, but the fact that i could only carry 3 passengers and then in discomfort, and only 2 comfortably, does turn me from it. a supercab would do. I would not be taking too many passengers that often so the smaller backseat would not be a real issue. but I would probably go for the supercrew if i could. although not needed a lot, the passenger space would be nice, as well as indoor storage, and also bed space is not a priority. truth is i'd probably take either supercab or supercrew easily. whichever was the better deal (no cheapskate) and the nicer looking truck. also not cutting the regular cab off completely, but i would really rather a backseat so if you check back when i do get a truck, chances are it will have a backseat.
-zach
08-23-2012, 08:57 PM
Ford forever!
Join Date: Feb 2012
Location: Peoples Republic of Mexifornia
Posts: 129
---
2013 standard cab longbed.
Anxiously waiting...
08-23-2012, 09:19 PM
Junior Member
Join Date: Aug 2012
Posts: 3
Thanks: 0
Thanked 0 Times in 0 Posts
---
First Post!
Just got my 2012 XTR 4x4 5.0L Super Crew with the 6.5 box (Tuxedo Black Metallic) this week. It is one awesome ride!
I drove a great 2002 XTR 4x4 5.7L, so great that my son is going to be driving
it now.
The sales guy was right. If you go big, get the rear view camera! its very handy. Pin point accuracy to my trailer.
Will post pics of new and old asap.
08-23-2012, 10:32 PM
Member
Join Date: Jul 2012
Posts: 86
---
I love my regular cab, short bed 4 x 4!
08-24-2012, 03:17 AM
Parts Guy
Join Date: Nov 2011
Location: N Las Vegas
Posts: 595
---
08-24-2012, 03:51 AM
Senior Member
Join Date: Jun 2012
Location: USA, Southwest
Posts: 122
---
I only need two seats, so I could have gotten a regular cab. But I also need some interior storage space so I got a supercab. And the whole reason I got a pickup truck in the first place was to get the open bed, so I got the biggest bed I could that gave me a turning circle I could live with -- which was the 6.5' bed, yielding a 47' turning circle.

I find I like the clamshell doors of the scab. I often have something I need to put in the storage area (the back seat) like groceries or equipment and it's nice having full access to the interior with both doors wide open.

I also took out the back seat and am planning to build some kind of tool and equipment organizer back there once I can figure out how I want it configured.
08-24-2012, 10:08 AM
Senior Member
---
I have a screw. Had to go that route with a wife and four kids. I will by a screw again. Just alot easier for people to get in and out of the back seat and more leg room.