2015 XLT Raptor/Roush Build - "Edsel"
01-04-2019, 08:58 AM
Junior Member
2015 XLT Raptor/Roush Build - "Edsel"
---
If you haven't experienced it, you've at least seen it in movies, Super Bowl commercials, magazine adds, and such - a father working on a vehicle with his son. Growing up, I was fortunate to have that experience. It started with a 1950 Desoto and transitioned to many other vehicles in my teenage years. None were more involved and more relationship bonding than a 1929 Ford Model A Sport Coupe. We had the engine out and spent months working on that car. We became big fans of Henry Ford (I'll get back to that), and toured the Henry Ford museum. My first truck, handed down from my father was a 1998 F-150 Lariat Extended Cab Step Side, sticking with the Ford theme. I loved that truck.
Now into my 30's my dad and I still love vehicles. He has several, including a 2018 Raptor. I am now on my fourth F-150. After I moved out, got married, I transitioned to a 2013 SCREW. That's when I found this forum. Because of job changes, kids, and being forced to move to SUVs for a short period of time. I went without a truck for the first time since I was 16. I never lost admiration of the F150. Always looking, gawking, admiring, and wanting another... Dad came through. On a random Sunday morning when I was visiting (I live four hours away), he handed me the keys to his 2014 STX Single Cab (pictured below) that he had souped up to be a Harley Davidson Raptor hybrid. It was a B.A. truck. Once again, my job changed and I was without a company vehicle and my primary kid transporter for the first time in 6 years.
A single cab truck is fine... when you have one kid. But our second was on the way. His name is Henry. A tribute to the bond built between my dad and I. Needing something that had 4 seats and a place to haul a carseat, I was forced to trade in Dad's STX (I wasn't going to drive my wife's mini van). This brings me to now. I purchased a 2015 XLT, SCREW, 5.5' bed. It was heart breaking to get rid of Dad's project truck. He worked so hard on it. My daughter had to even come to the dealership to say goodbye to it. But the good news is... Dad and I have a project that we can work on again... together.
So call me a poser, cheapskate, imitator... whatever... I don't care. To me, it's about the project even more than the product. But Dad and I are going to turn this thing into a Raptor/Roush Hybrid. It will be fun! Did I purchase a Raptor? No. Did I mention I had two kids? It's not in the cards. But if I can spend 1/3 to 1/2 of the cost and fix one up to look just like it and build some memories along the way... that's what we'll do. Henry Ford's son's name was Edsel. So this truck will be named after him. So here we go!
Dad's Project. Gorgeous.
My daughter, Adeline checking it out.
Using it to get the lumber for Henry's furniture that I built.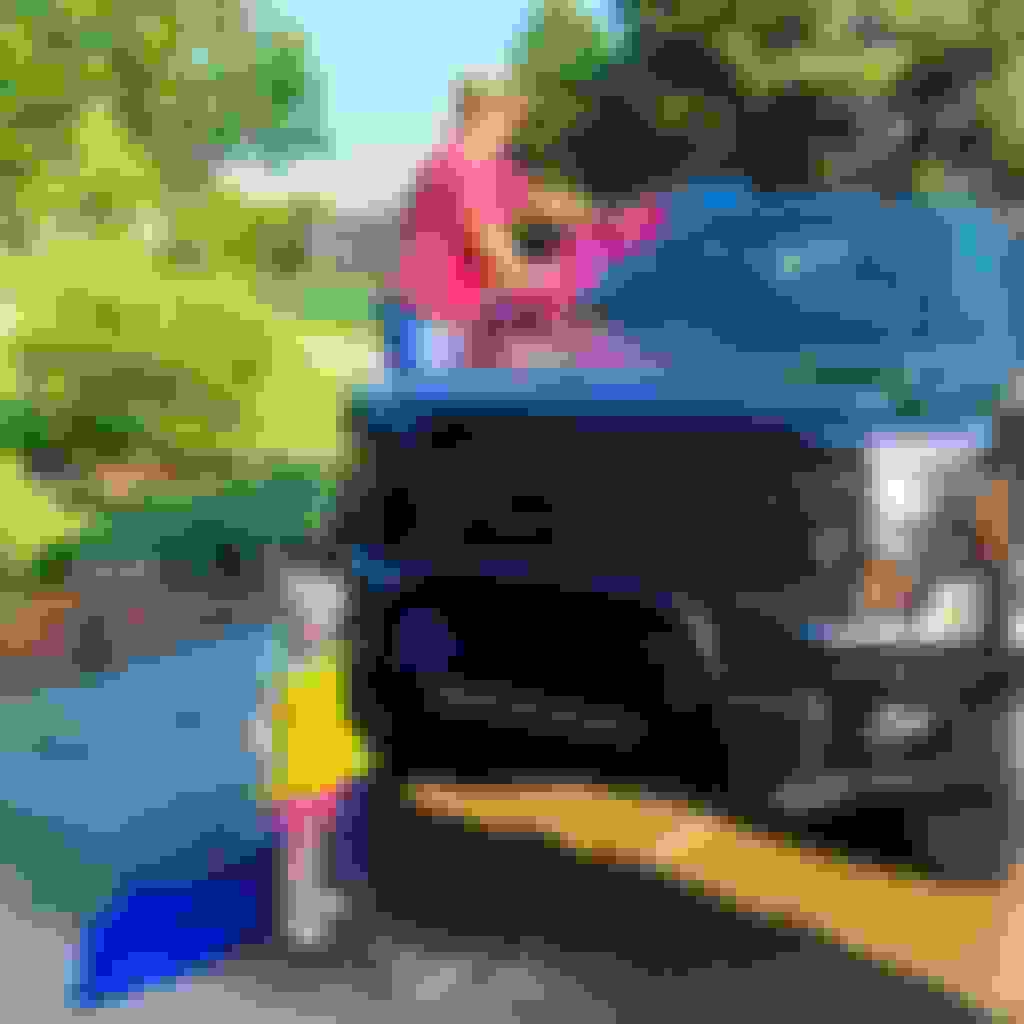 Bonding with the next generation.
The new project.
---
Last edited by logan.hanes; 01-04-2019 at

09:29 AM

.
01-04-2019, 09:01 AM
Junior Member
Two Weeks after getting the truck...
---
It was a bad day. My wife had ordered a grill for Christmas for me. Dad and I had planned to work on it over Christmas. The girl hit me. On her phone. No insurance. Grr...
01-04-2019, 09:04 AM
Junior Member
Never let a fender bender stop ya. Grill Install.
---
Everything still worked. I couldn't get in to see an adjuster until after the first of the year anyway. So we pressed on with the trip as planned. Dad and I got to do our first "wrenching". We installed the raptor style grill. What a difference.
01-04-2019, 09:08 AM
Junior Member
Ambient Lighting
---
Although my XLT has some cool features like the console shifter and a moonroof, it was missing some ambient lighting. Dad and I fixed that. Turned out great. Under the dash and front seats (to shine to the back).
Switch to control the lighting.
01-04-2019, 09:20 AM
Junior Member
Body Work Scheduled
---
The repair has been scheduled for next week! It was a good opportunity to upgrade the bumper...
Rough Country Heavy-Duty Rear LED Bumper.
01-05-2019, 08:46 PM
Tommy
Join Date: Nov 2012
Location: Greenville, North Carolina
Posts: 3,945
---
I kinda envy you...I wish I could have had "build time" with my dad. The memories made will greatly outway the fact it's not an official Roush or Raptor. Build on!
01-18-2019, 08:34 PM
Junior Member
It's Fixed!
---
Edsel is fixed! They body shop did an amazing job considering what they were up against. Although it didn't look horrible, that aluminum is tough stuff! They couldn't bend it back out. Makes sense as all other body shops said they would have to replace the entire bedside. They ended up cutting off the damaged part and fabricating a piece of steel to fuse into the aluminum. Final product looks great. Next Up: Rough Country Rear Bumper!
01-18-2019, 08:38 PM
Junior Member
Rough Country Rear Bumper
---
This thing is solid! 95 lbs is what the box said. I like the overall look. The rest of the truck will match it in the next few weeks. Still need to hook up the lights to the reverse lights.
01-19-2019, 06:32 AM
TOTM - October 2018
Join Date: Mar 2018
Location: Thibodaux, La
Posts: 1,129
---
Nice project so far. You've done some nice additions and the memories with your dad is something no one can take away. I dig that sticker on the back window of the old truck.