How to for Steering box removal, fix, and installation.
Difficulty level 1-10:
4 if removal and replacement
~8 or so if you are reusing and fixing the existing pump.
When backing out yesterday I noticed my power steering had stooped working. Thus I began to investigate.
First I checked the Power Steering pump and lines for leaks to no avail. So naturally I then checked the Steering Gear box for leaks. I found a loose bolt that had let pressure escape and busted a simple little O-ring. So here is my write up on how to fix a leaking seal on a gear box, (mainly removal and installation). These can leak anywhere or not function for several reasons, so be sure to check where the leak is (usually obvious) mine was spewing fluid out of where the O-ring was broken.
Symptoms of a leaking gear box
Lose of power steering.
Losing or dripping fluid from the sector shaft or any other parts.
Loud whining noise due to loss of fluid in the pump.
"May not leak fluid due to internal seals, but you will still lose power steering."
In the case above make sure to pressure check the pump and hoses.
Tools:
-Hammers - A good sledge and a 32oz ball pein will do it.
Note: You will need an array of extensions and sockets, so may sure you have a good set and selection.
-Ratchets - 1/4 , 3/8 , 1/2 (for tensioner pulley)
-Sockets - 8mm - 16mm , 1/2 - 5/8
-Open end wrenches - 8-16mm + 9/16 for the gear box.
- A good 12" 1-1/2 crescent wrench.
-Set of punches
-Flat blade big and small screw drivers
-(Needle nose pliers)
-Cheater Bar (not optional)
- Floor Jack + 2 Stands(safety first).
- Funnel and Buckets for draining fluids.
Parts:
- 1 bottle of transmission fluid
- 1 32 oz bottle of power steering fluid
- 12 oz bottle of power steering fluid to flush and clean
- Pitman arm puller (optional) , these can be purchased for 15 bucks at autozone
- Brake Cleaner, air hose, or anything non abrasive to metal and evaporates quickly.
- Few ounces of Kerosene to clean the piston and seals. This will not hurt them like gas and other chemicals.
- Seal kit
Part # 8771 at Advance auto, below is the link for the complete seal kit.
http://shop.advanceautoparts.com/web...=steering+gear
OR
- New Gear Box (note they charge a core) so this option can be a little pricey.
Part # 27-6565
http://shop.advanceautoparts.com/web...hedFrom=header
Before you start:
For some this may be easier to do with the gear box left in the truck, however, I chose to take mine out to show everyone how it can be done correctly. It saves alot of reinstalling if left in the truck, but it can be a hassle to get the piston assembly out, sometimes it requires removing the pump. Anyways, choose your method wisely. Realigning the steering can be a pain so keep that in consideration.
Make sure you tires are point straight forward and latch your seat belt around the steering wheel to prevent it from moving.
Take precautions- This system runs at nearly 1300 PSI so be super cautions when dealing with pressure hoses and systems.
It is easier to work in these tight spaces if you remove the upper and lower radiator hoses, so I suggest draining the fluid and loosening both radiator hoses. The upper one will help when removing the fan shroud, the lower one will help you get to the steering shaft and pressure hoses.
Step 1: Making room to work
In order to get the most space necessary to work in, you will need to remove the intake box from the throttle body. You can leave the filter where it is. So unplug your IAT sensor and MAF sensor to push your plastic intake out of the way. Next you will need to remove the fan and fan shroud. I will not go in-depth on but here are other threads that will guide you if you need help.
https://www.f150forum.com/f72/instal...r-pump-210842/
If you refer to the thread above for removal of the intake and fan shroud, please note the IAT sensor is labeled MAF, so just make sure to disconnect each one. The connectors are different, so it is impossible to mess up.
With the intake and fan shroud/fan off you should have access to most of the parts you need, however, you will also need to remove the skid plate under the front of the truck if equipped. This allows easy access to the pitman arm and gives you even more access. It is simply held on by 6-10mm bolts. Again, I will not go in depth for this. It is self explanatory.
Before this step: Drain remaining power steering fluid.
Drain what is left of your power steering fluid by disconnecting this hose. It comes from your reservoir. Use any type of pliers to loosen the clamp. Drain in an appropriate container. See picture below:
Step two: Disconnecting intermediate steering shaft.
Disconnect the intermediate steering shaft. Down and to the left of the brake reservoir, you can see the steering shaft and access the (may be 13mm) bolt here. I recommend a gear wrench here for the tight space, but a ratchet should fit.
Note the nut is backed up (cannot turn), but not attached to the shaft.
Below you can see the 13mm bolt holding the joint onto the sector shaft and steering linkage. Remove the bolt and wiggle the joint loose.
Step 3: Removing cotter pin and bolt holding the pitman arm to the drag link.
I am really not a fan of taking the Pitman arm off the Gear Box because alignment and fitting can be can issue. So I suggest disconnecting the drag link. It will be easily noticed, it is the split flange nut with a cotter pin attached to the other end of the pitman arm. Use a pair of needle nose to remove the cotter pin. Then loosen the bolt. I recall this being a 21mm, but any adjustable wrench will do the job, it is slow coming off because of the fine threads so take your time. Take caution to not mess up the ball joint/grease cup at the end of it. Now with the nut off, you will use a 32 ounce ball pein to break the bolt loose out of the drag link. DO NOT HIT THE BOLT, use a block of wood to help you hit pitman arm, it should pop up out of the drag link. (If you cannot get it to come loose, spray some PB Blaster/WD-40 on the connection and do the next step two steps.
For reference: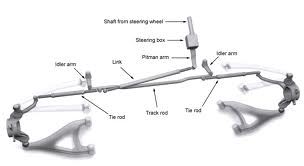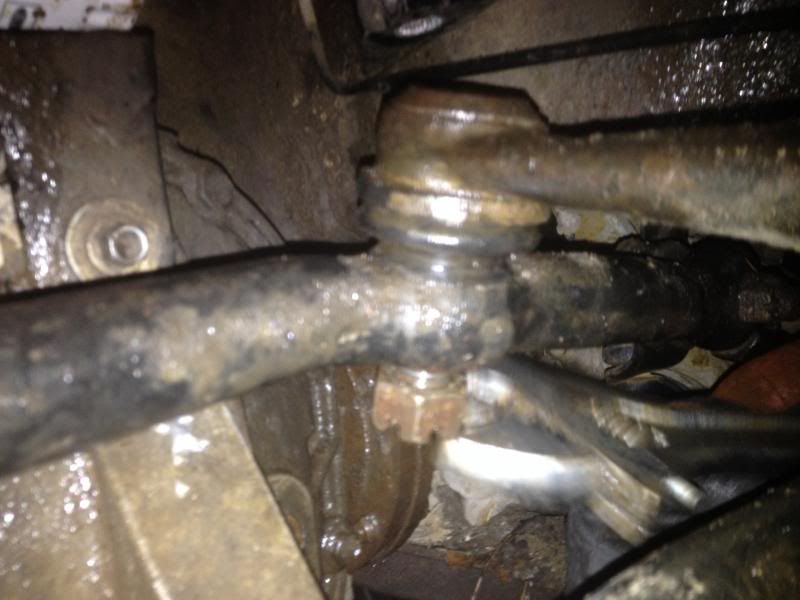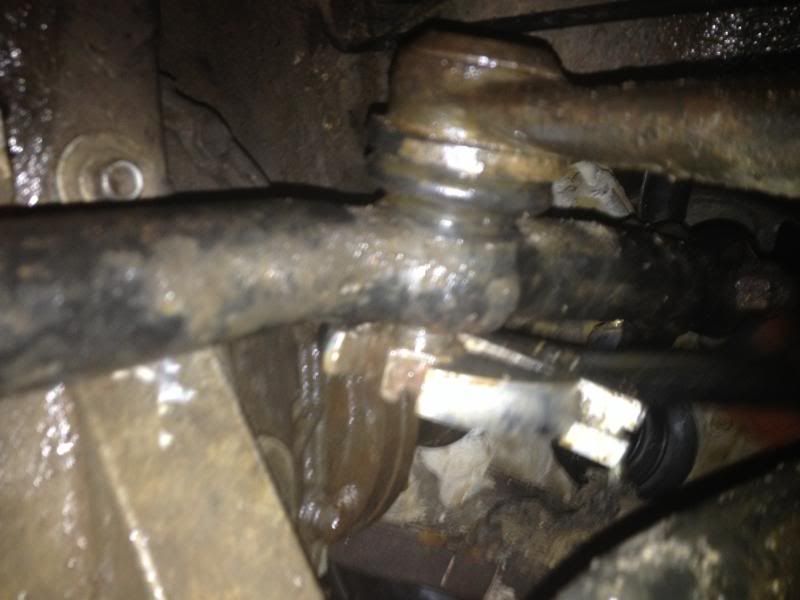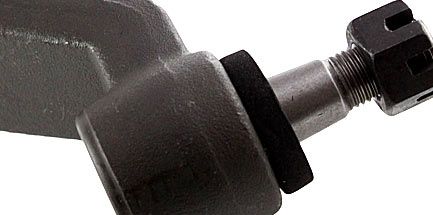 Step 4: Removing intake and outlet power steering hoses.
Since you have removed the lower coolant lines you should have easy access to the inlet and outlet to the steering gear box. I suggest removing the outlet line first, then the inlet line. Use a 15mm open end wrench for this. Make sure to wear eye protection in case pressure is still on a line. Remove both lines from the gear and move them out of the way.
Note: My wrench is on the inlet hose. (I was reinstalling) take the other hose off first.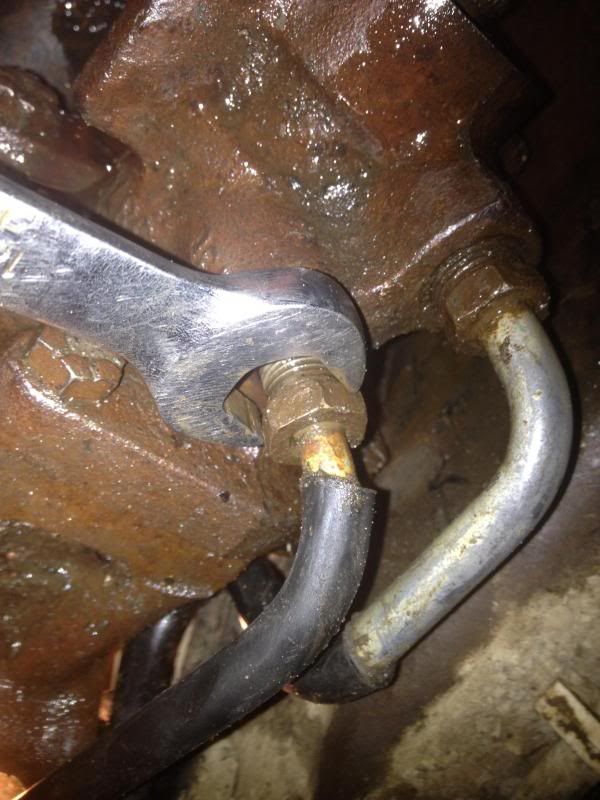 Step 5: Removing the steering box
The only thing left holding the gear box on is the three ( i think 5/8) bolts on side of the frame (right below the fender wells). It helps to have a friend hold the gear box when you are loosening these 3 bolts.