Nominations: June 2019 Truck of the Month!!
06-06-2019, 06:10 PM
Senior "Citizen" Member
Join Date: Dec 2017
Location: White Bluff, Tennessee
Posts: 2,856
---
I'll try again!
'13 SCrew, XLT, 3.5EB, 3.73's/LSD, Ingot Silver
Mods Include:
Lowered Level
Bilstein 5100's
Hellwig Sway Bar (rear)
Energy Suspension Sway Bar Bushings (front)
Power Stop's (front and rear)
XD "Heist" 20x9's with Bridgestone Alenza rubber
DiabolSport inTune i3 Tuned ( advanced, w/ speed limit eliminated)
Pedal Commander
Auto Meter Boost Gauge amounted In Roush Vent Pod
90+% Chrome Delete
Custom Door panels with upholstered speaker grilles
Suede Dash Mat
Suede Wrapped Steering Wheel With Red Sight Line
Aftermarket Heated Seats
Maxpider "3-D" floor protection
Hard Wired Dash Cam
Rear Seat Back Release
Wrapped Dash Bezels
Front Window Tint To Match Rears
Matte Black Hood Graphic
PTM MirrorScull Caps and Lower Valance (strutted)
Weep Hole Mod
WeatherTech Hood Deflector (Texture Coated)
AVS Seamless Visors
Cab Spoiler
Stillen (Street Scene) Tailgate Spoiler
Lund Genesis Elite "Ragtop" Tri-Fold Tonneau
Bedrug With Gate Cover
Every Bulb Is LED
Raptor Style LED Corner Clearance Lights
Running Board "Courtesy" lights
LED Bed Lighting
Probably More But I Forget!
Banks Ram Air True CAI.
Painted Engine Cover.
---
Last edited by SPOAT; 06-07-2019 at

03:59 PM

.
The following 6 users liked this post by Mike from TN:
06-06-2019, 08:11 PM
Senior Member
---
2009 FX4 5.7 with 140000 miles. Lots of mods but thought I'd just let it speak for itself.
ok, guess I have to add the mods.
A.R.E. MX series cap with the custom rear door.
Cargo Slide 100% bed slide
37x12.5x17 Nitto Ridge Grapplers on Fuel Krank wheels
Barricade front and rear bumpers with Rigid LED cubes and bars lights.
Recon headlights and tail lights.
our own KustomFX overhead switch panel
Zroads Tree grill with bar light
level kit with bilsteen front struts (had the springs powder coated red) with 1 in spacers and 3" blocks and a add a leaf in the rear.
3" body lift
Weston boards
Rear wheel well liners and front gap guards
Custom F150 fender tags and one on the cap door.
KnN intake
Bushwacker flares
Halo Rear shocks
Air Ride remote controlled rear bags with a glow light dash gauge
Kenwood touch screen with GPS
DU HA underseat storage
Rear seat release
Leather seat covers
weathertech mats
and whatever I forgot
---
Last edited by SPOAT; 06-11-2019 at

11:39 AM

.
The following 11 users liked this post by JerseyGray:
5.Bro
(06-07-2019),
Blown F-150
(06-07-2019),
DarrinT04
(06-12-2019),
Firerunner
(06-08-2019),
johnday
(06-07-2019),
Mike from TN
(06-06-2019),
Pigman67
(06-07-2019),
sddesigns
(06-11-2019),
SPOAT
(06-06-2019),
Stephen J
(06-11-2019),
Texas3
(06-23-2019)
06-06-2019, 08:49 PM
Senior "Citizen" Member
Join Date: Dec 2017
Location: White Bluff, Tennessee
Posts: 2,856
---
06-06-2019, 10:05 PM
Vroom vroom
Join Date: Jun 2016
Posts: 411
---
OLets try again now that im on vacations
2016 F150 XLT 301a
sync 3 with nav
PTM bumpers and sport grill
stubby antenna
2 10 inch Kicker subs in a custom ported enclosure
500 watt kicker dx amp with kicker 4 gauge wiring
25% tint
black and blue seat covers
Anzo switchbacks headlights with 5k HIDS lows and fogs
Belltech 1000sp
Dub ballers 22s with toyo proxxes
Side exhaust straight pipe
AFE drop in filter
OMega tune e85
Caltracs tractiion bars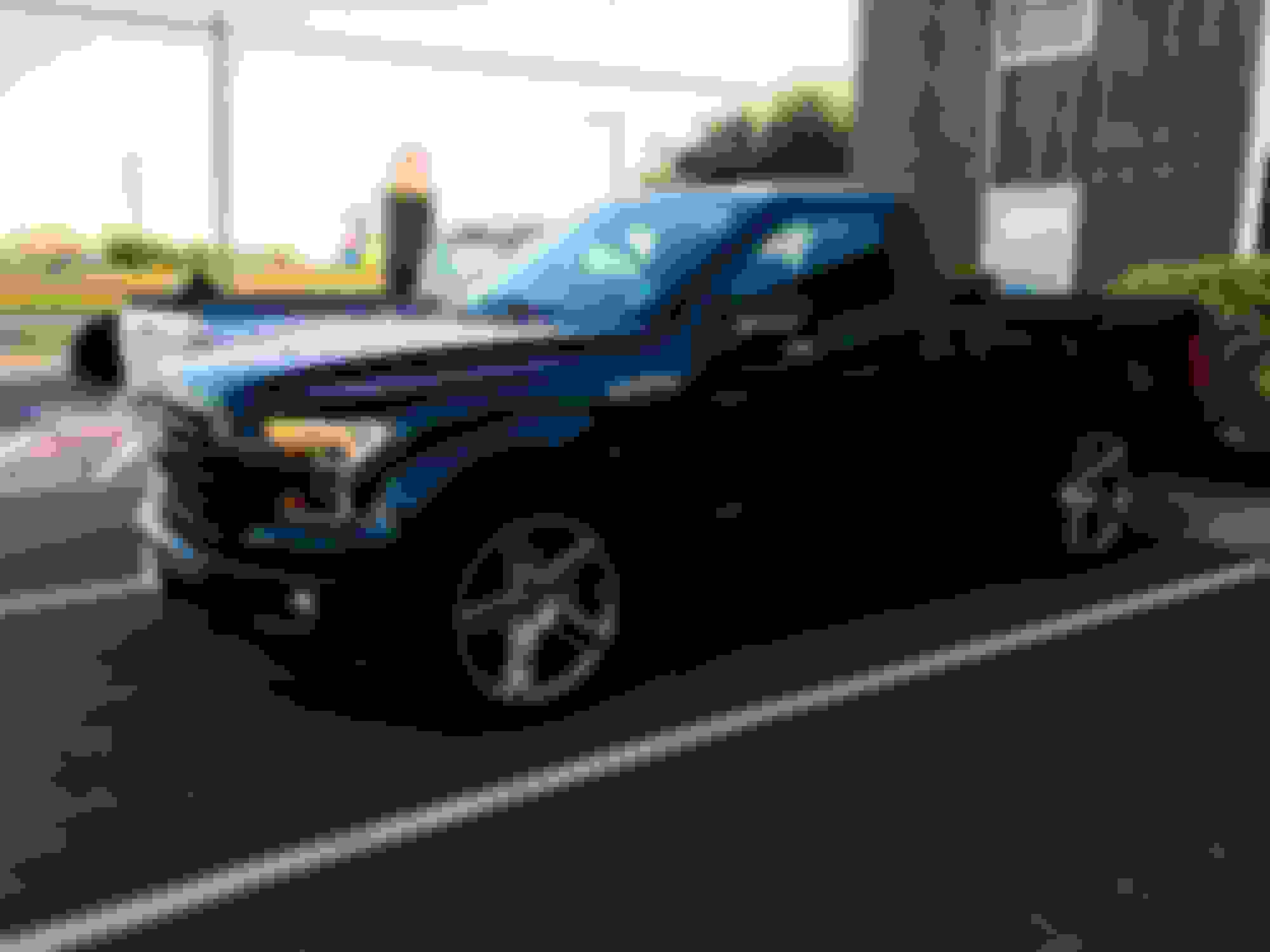 .
.
---
Last edited by SPOAT; 06-16-2019 at

11:13 AM

.
The following 9 users liked this post by 5.Bro:
The following 2 users liked this post by Massshole13sc:
06-07-2019, 04:02 PM
Moderator
Join Date: Mar 2016
Location: Georgia On My Mind
Posts: 2,963
---

I love his truck too but he ain't eligible 'till January.
06-07-2019, 04:11 PM
Fleet Technician
Join Date: Feb 2013
Location: Big Easy
Posts: 23,222
---
The following 3 users liked this post by Rnlcomp:
06-07-2019, 05:18 PM
Senior Member
Join Date: Jun 2015
Location: Calgary, AB
Posts: 1,855
---
3rd time's the Charm!
Other than the building of the actual motor and wheel alignment, all work and mods done on the truck by me.
Exterior
RCI Aluminum Skid Plates
Method Racing wheels with 305/55/18 KO2's
Raptor Running Boards
MX GrillCraft Grill
Expel film on front Bumper
Spray in Box liner
Morimoto XB Fogs
Removed lower air dam
Access "Vanish" tonneau cover
AVS in-channel visors
AVS bug deflector
Pro-Comp AAL
Fox 2.5 Coil-overs with DSC
Icon Upper A-Arms with Delta Joint
Fox 2.0 Rear shocks
Rear wheel well liners
EZ Tail Gate assist
Pop a lock tail gate lock
LED bed lights
Recon 3rd Brake light
Recon Tail lights
Recon LED puddle lights
ANZO LED marker lights
Flat black FX4 Bed decals
Custom flat black "EcoBoost" decals
Painted F150 emblems
Painted FORD rear emblem
12v/5v Power outlet in box of the truck
Fumoto Valve
Rough Country Hidden 1010 winch mount
SmittyBilt 10k "X20" Winch
BuiltRightIndustries Bed rack/panel system
Yakima Bed Rack system (Mounted to Bed rails)
PowerStop Rotors with Raybestos hybrid pads
Kevlar Brake lines
Spicer Rear Diff Cover
Aimsoil Fluid in front and Rear Diffs
ADD "Dimple R" rear bumper coated in Bedliner
RokBloks MudFlaps
Interior
Raptor
Steering
Wheel w/Blue Vinyl Centering Stripe
WeatherTech Digital Fit Mats
3M protective film on the door sills
Kicker Subgate upgraded sub
DRW-650 2-channel dash cam
Custom Hydro dipped door panel inserts and stereo surround
Painted Matte Black Speaker Grills
Full LED interior light conversion
Custom overhead light switch panel
CravenSpeed Dead Pedal
BuiltRightIndustries - Rear Seat Latch
AutoMeter Boost and Fuel Pressure Gauges with a A-Pillar Mount
Performance
RMB Built Motor!
- Closed Deck Block
- Custom JE Pistons with Custom Ring Set and Coating (9.5:1)
- Manley I-Beam Rods
- Gen 2 Crank (micro polished with modified oiling)
- Pocket Port "R" heads
- Upgraded Valve Springs w/OEM Valves
- Custom Grind HPFP cam
- XDI-35 HPFP
- Return Fuel System with Injector Dynamics External filter, Walbro 450 Fuel Pump, Radium regulator, B&M fuel line
Circle D Torgue Converter 2500-2700 Stall
SCT Xcal4 Tuner with @
Boostking
Custom Tunes!!
Full Race FMIC in Black
Tial BOV
AFE Stage 2 CAI
2019 Raptor Turbo/OEM Turbo Hybrid's
CRP Manifolds
SPD Turbo adapters
Full Race Catted and Ceramic Coated DP's
Full Race Resonated Cat-Back
Full Race Catch Can
Full Race Gen 2 Radiator
Remote oil filter using Improved Racing Adapter and remote mount
Setrab remote oil cooler
Ford Raptor "Saudi" Trans Cooler
The following 6 users liked this post by Blown F-150: