How's your Box Cover
12-01-2013, 01:12 AM
Senior Member
12-01-2013, 11:08 AM
Senior Member
Join Date: Nov 2013
Location: SW New Mexico
Posts: 795
---
i got an undercover solid one - found it used on craigslist for about 350, needed it for a long road trip and had intended to sell it once that was done but I really like it and it's easy to remove if I need the full bed height. Hard to say what difference it makes for mpgs but it can't hurt given that its relatively lightweight

i like the tri fold you chose, was considering those and a hard/roll up style too but the deal I got on this one was too good to pass up
12-01-2013, 02:52 PM
---
I just got my BakFlip from the outstanding deal in this thread:
https://www.f150forum.com/f59/slight...covers-234244/
Like everybody else in the thread that has commented about their "blemish", mine was so minor I wouldn't even have noticed it if it didn't have a white circle around it. I was certainly happy to get a couple hundred $$$ off for a minor blemish!!
Bob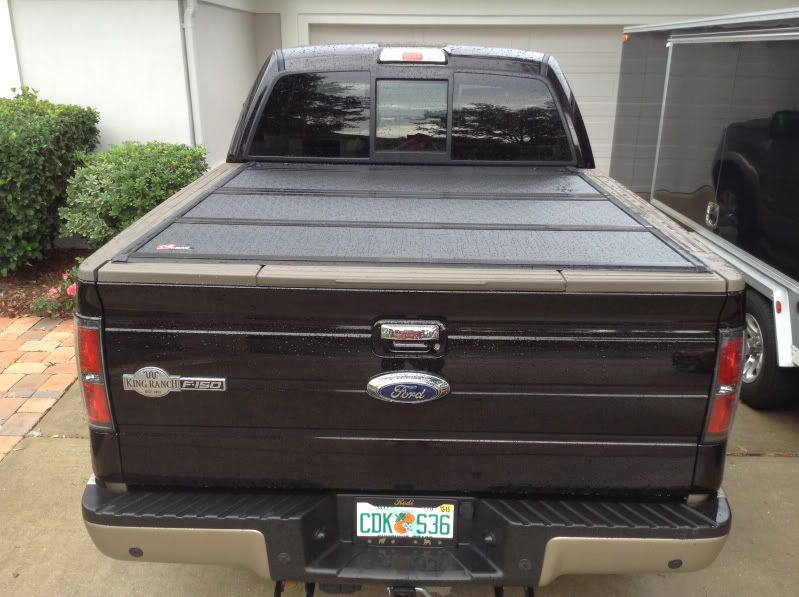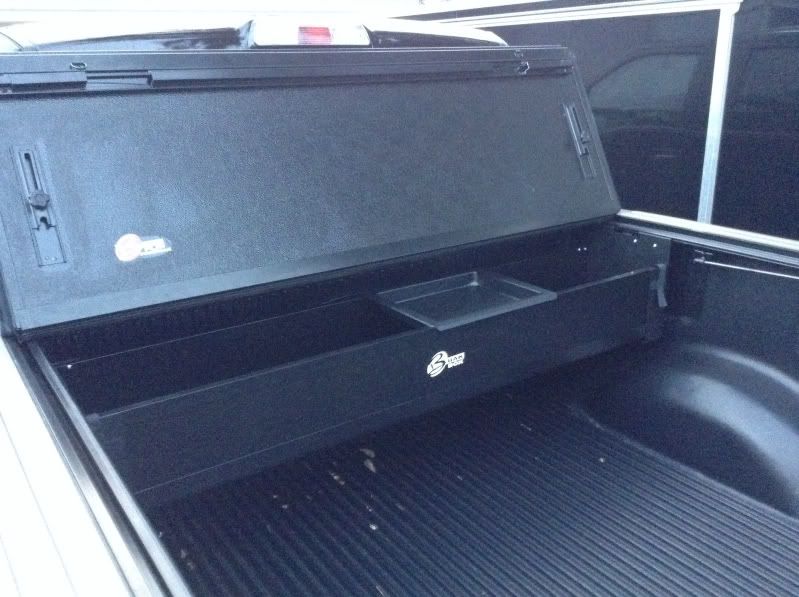 12-04-2013, 11:28 PM
Senior Member
---
The Extang Trifecta the dealer was trying to sell me they found out wouldn't fit and they offered up the Extang Solid Fold on Sale. It flips back in about 30 seconds and fastens then it caries very easily. The lil woman and I instal / de-instal in about 15 minutes. I also like the way it travels open with a load of tall stuf back there. I don't have to worry so much about extremely cold winter weather.
12-06-2013, 10:59 AM
Senior Member
Join Date: Nov 2013
Location: NOVA
Posts: 729
---
I went with the BakFlip F1 with optional integrated BakBox. Love the cover, installation is a breeze, mostly water tight (little moisture in the corners), and it's rather lightweight yet durable. Installed the "Dee Zee tailgate assist" and "pop a lock" along with the cover to obtain power tailgate locking which is really a nice match with the BakFlip. Meaning with the cover closed and tailgate power locked (from the remote), it's entirely secure from the outside. A simple click of the remote to unlock the tailgate, open it and the Dee Zee lowers the gate effortlessly, and exposes the cover release if you want to open it up.
12-06-2013, 11:09 AM
Senior Member
Join Date: Jun 2013
Location: Fayetteville, NC
Posts: 282
---
I've had the roll up Truxport for 6 months and really like it. Good quality and the price was right.
12-15-2013, 01:53 AM
Senior Member
---
We pulled it off in 5 minutes, hauled 750 lbs of fence, installed it and cut down a bunch of brush. Loaded the brush and took it to landfill. Then it snowed 4" and box is back to snow 1/2 full. Dang it, new I should of put it right back on immediately.
12-15-2013, 04:01 PM
The Dodge Slayer
Join Date: Nov 2013
Location: Ohio
Posts: 273
Thanks: 0
---
Slayer just has the 1 piece tunoue(sp?) cover that came with the Sniper. However, when security became an issue, and i had to replace my tote with a locking tool box, I ended up cutting it off, and folding the excess under/
But it was all good as I was able to cut off the big hole a raccoon tore in it to get at some fish bait I had forgotten in there.
---
Last edited by Bree; 12-15-2013 at

04:03 PM

.