Anyone else into .22's?
03-19-2010, 11:29 AM
Senior Member
Join Date: Nov 2006
Location: Minocqua Wi
Posts: 6,988
Likes: 0
Anyone else into .22's?
---
this is my marlin 70p with an ATI dragunov stock and a 3-9x40 scope. Im still up in the air about getting a bipod for it, but Im not sure If I woudl ever use it.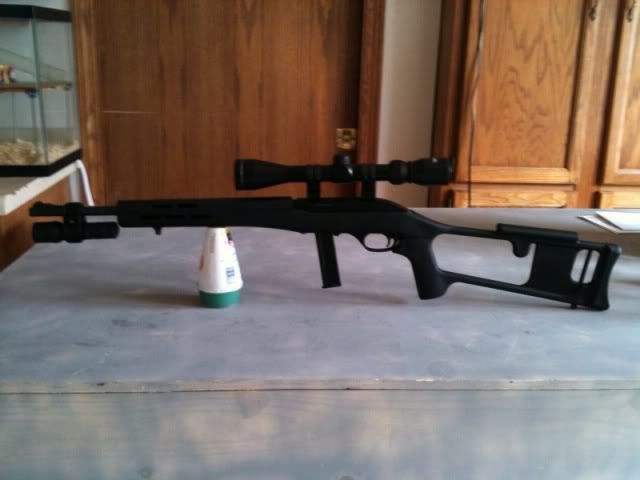 anyone else into .22's?
03-19-2010, 01:38 PM
Ninja Taco
---
Nice squirrel killer! I have a stainless steel Rugger 10-22 carbine, and love the **** out of it. It's nice to be able to pop off 800 rounds, and only spend $30. I think .22's are a blast.
03-19-2010, 03:16 PM
Hi-Rev Motorsports
Join Date: Aug 2009
Location: Northern Indiana
Posts: 4,899
Likes: 0
---
I've got an old JC Higgins semi-auto .22 and its very accurate and sweet shooting...I had to rebuild the firing mechanism a few years back...actually I had a gun smitch friend and we made a new spring for it....it would work fine under single shot but the spring was weak enough to misfire and jamb on rapid shots...

All fixed and I dont shoot much anymore...

I also have an old Savage Arms .410/.22LR that I just love...I call it the girly gun cuz its short but sweet...the ladies love to shoot it too...

prolly one of my favorites other than my Marlin 12gauge...
03-19-2010, 03:23 PM
Ninja Taco
---
Here's my newest toy! It's a FEG PA 63 9x18mm made in Knoxville TN. I love it so far. Pumped about 100 rounds through it with out a problem. Rounds are only 13 bucks a box of 50 too!
03-19-2010, 07:43 PM
Senior Member
Join Date: Jul 2009
Location: NE OHIO
Posts: 1,481
Likes: 0
---
i've got the classic ruger 10-22LR, its probly about 30 years old, and i've been wanting to get a .22 handgun, just shot my buddy's S&M .22 pistol today, i thinking maybe a walther p22
03-19-2010, 09:36 PM
Can't re member
Join Date: Jan 2010
Location: Oklahoma
Posts: 160
Likes: 0
---
Anyone else into .22's. Hmmmmm well kinda.
Rem. 552 simi-auto
2 Rem bolt action,one clip,one tube mag.
Ruger single six pistol .22-.22 mag
Ruger bearcat pistol .22
Win. pump .22 mag
Marlin bolt action .22 mag
Marlin levermatic .22 mag
AMT Automag pistol .22 mag
American Arms pistol .22 mag
There's may be more in the gun safe that I can't remember .
So yeah I guess I'm into .22s.